Huge Clover Dragon has a current value of 50,000,000,000 gems as a starting price for the Normal version and goes up to 250,000,000,000 for the Rainbow version.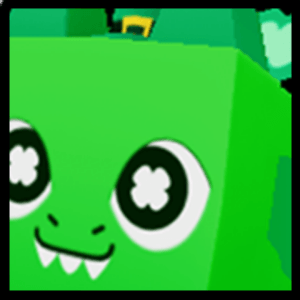 Huge Clover Dragon is a Pet Simulator X Exclusive pet that you could hatch from the Giant Rainbow Event egg. It is located at the end of the Rainbow. Note that the Giant Rainbow only appears every 4 hours in the Town area, you will need some friends to help you break some chests (5) which will allow you to reach the Pot Of Gold where you will finally find the egg that needs to be hatched, and if you are lucky enough, you might get the Huge Clover Dragon. The chance of hatching this pet is currently unknown. It was released as a part of St. Patrick's Event in March 2023.
The Huge Clover Dragon value above is in gems and it's accurate & updated and calculated using verified trades from experienced Pet Sim X traders, pet demand, past sales data, RAP price, and other metrics.
It has over 1 re-model.
The current demand for it is very high.
it doesn't have a non-huge version yet, even tho there was a leaked "Clover Dragon", but wasn't released.
It's rare and the value will always be high.